About Us
Levy Employment Law, LLC is dedicated to assisting employers through the challenges of managing their employees in a fair and consistent manner that complies with the law.Small employers can look to us as their multi-faceted external employment law counsel and employee relations function. Mid-sized and large companies leverage Levy Employment Law, LLC to conduct independent workplace investigations, develop and deliver workplace training, or to augment their in-house HR and Legal functions for specialized projects including employee handbook development and resolution of complex human resources issues.Employers of all sizes retain us to represent them on employment matters before federal, state and local administrative agencies. In addition to these services for businesses, the firm counsels and represents individual employees with respect to their hire and departure from employment situations.
Tracey I. Levy, Esq.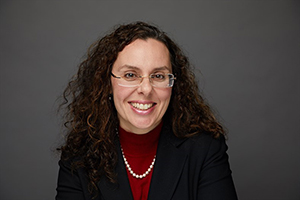 Tracey I. Levy is the founder of Levy Employment Law, LLC, and has been recognized by Super Lawyers for the New York Metro area since 2016 . Offering clients the benefit of her 20 plus years of legal and employee relations experience, Tracey guides managers and in-house counsel through the full employee life-cycle, providing practical advice on workplace-related issues.
Through Levy Employment Law, LLC, Tracey focuses her practice in four key aspects of employment law – design, training, troubleshooting and defense.
Design – where many see tedious legalese, Tracey sees an opportunity.

 

Since the firm's founding, Tracey has been publishing her quarterly newsletter, Takeaways, to inform employers of concrete actions they need to take in response to developments in the law.

 

Tracey regularly works with organizations on developing and updating their employment policies and crafting agreements that provide appropriate notice to staff but in a user-friendly tone.
Train – Tracey develops and delivers training for managers, HR professionals and individual employees on appropriate workplace conduct, employment law compliance and HR best practices. Since 2015, Tracey has served as an adjunct instructor with Cornell University ILR School's Human Capital Development program in Manhattan.  Through the Cornell program, Tracey trains HR professionals and managers in a broad range of industries on subjects including equal employment opportunity laws, employee relations and conducting effective workplace investigations
Troubleshoot – Tracey is regularly called upon to serve as an independent, outside investigator and fact-finder, conducting workplace investigations in response to internal employee complaints.

 

Tracey also advises employers and individuals on performance management, medical/religious accommodation, compensation, hiring, promotion, termination, reductions-in-force (RIFs) and other workplace issues.
Defend – Tracey defends businesses against discrimination, wage and hour and unemployment claims before government agencies.
Tracey's clients range from small consulting firms to Fortune 500 companies, as well as individuals, from a diverse range of industries, including fashion, financial services, health care, higher education, hospitality, insurance, marketing, not-for-profit, real estate, retail/wholesale, and technology.
Tracey's prior work experience includes more than five years as an Employee Relations Specialist with UBS AG, where she was responsible for ensuring consistency and fairness for a 20,000-employee organization in its approach to managing UBS employees. Serving as the Americas HR policy lead, Tracey advised on policy interpretation and employment law obligations, led strategic planning and rollout of new HR policies and processes, and developed and delivered training.  Tracey regularly led workplace investigations in response to employee concerns and recommended remedial action as appropriate. She counseled HR and line managers on a daily basis regarding performance management, leave administration, workplace accommodations, and workplace disputes. Tracey also advised on individual selections and implementation of reductions-in-force and outsourcing/offshoring initiatives. Tracey created and led in-person and virtual classroom trainings for managers, employees and HR professionals on matters related to appropriate workplace conduct, compliance with US employment laws and effective performance management.
Complimenting her years of hands-on HR experience, Tracey is an experienced employment lawyer, having worked for more than eleven years as an attorney in the Labor and Employment Law Department of Proskauer Rose LLP, one of the nation's leading labor and employment law firms. Tracey defended employers in court and before administrative agencies regarding claims of unlawful harassment, discrimination and retaliation, wage and hour violations, breach of contract and tort. Tracey's clients ranged from multi-national corporations to small private businesses, in diverse industries.
At Proskauer, Tracey also served as the department lead on HR policies and employee/manager training program development. She regularly counseled clients on employment law matters such as policy and manual development, performance management, workplace investigations, contracts and reductions-in-force. Tracey created, enhanced and led training programs for preventing harassment and discrimination, and developed content for on-line training programs.
Tracey began her legal career as a senior court attorney with the New York State Court of Appeals where she reviewed motions for leave to appeal and sua sponte inquiries that covered the full scope of New York civil litigation.
Tracey is a graduate of Yale Law School's LLM program, where she focused her studies on employment and labor law. Tracey earned her JD summa cum laude from Albany Law School of Union University and a BA in Political Science magna cum laude from Union College.
Tracey is admitted to practice in New York and Connecticut. She is a member of the New York City Bar Association, where she serves on the Disabilities Law Committee, the Westchester County Bar Association, the New York State Bar Association, and the American Bar Association, as well as the Society for Human Resource Management and the Westchester Human Resource Management Association. Tracey periodically speaks to local business and trade organizations on employment law developments.
---
Gayle F. Wasserman, Esq.
Gayle F. Wasserman, Esq. is a management-side employment attorney and human resources consultant with over 17 years of experience, who serves as counsel to Levy Employment Law, LLP, in addition to her private practice, based in Westchester County, New York. Gayle regularly counsels clients in New York City and throughout the tri-state area on a variety of employment and workplace matters, focusing on investigations, trainings, and outsourced HR advice.
Gayle utilizes her employment law experience to advise on employee handbooks and day-to-day workplace issues; perform human resources and FLSA audits; conduct workplace law, liability avoidance and employment practices training; and conduct investigations into allegations of employee misconduct and employee complaints. She counsels employers on all aspects of the employment relationship, including workplace policies and procedures, Equal Employment Opportunity compliance, leaves of absence, accommodation issues, wage and hour laws, hiring and firing practices, employee discipline, and performance reviews and documentation. In addition to regularly supporting employer's internal counsel and HR staff, and serving as an outsourced HR function to smaller business, Gayle has also served as a full time secondee to businesses needing employee relations support.
Gayle began her career as an associate in New York in the Labor and Employment Department of Proskauer Rose LLP, one of the nation's leading labor and employment law firms, and subsequently practiced with Kauff McClain & McGuire LLP, a prominent boutique law firm in New York focused on the practice of labor and employment law. During that time, Gayle defended clients in numerous employment-related cases in state and federal courts and before federal and state agencies, and represented and counseled employers in all facets of employment law. Gayle established Wasserman Law in 2004, a private practice, where she provides businesses with a variety of employment law and human resources counseling services.
Gayle earned her law degree from New York University School of Law in 1999, where she received the annual award for excellence in the study of labor relations. While at NYU, Gayle was an editor and advocate on the Moot Court Board and was elected to the Order of the Barristers. She received her undergraduate degree with honors in Organizational Studies from the University of Michigan.
Gayle also served as an adjunct professor at Hunter College in N.Y., where she taught undergraduate Business Law. She is a member of the New York City Bar Association and Society of Human Resource Management.
---
Alexandra D. Lapes
Alexandra D. Lapes is an associate with Levy Employment Law, LLC, where her practice focuses on independent workplace investigations of harassment, discrimination and retaliation concerns; training on equal employment opportunity issues; and advising on compliance with federal, state, and local employment laws.
Alex is a graduate of the Elisabeth Haub School of Law at Pace University, where she honed her passion for labor and employment law as a law clerk with Levy Employment Law, LLC and through her coursework, and was recognized with The Jackson Lewis Labor and Employment Law Award.
In addition to her legal training, Alex brings several years of practical experience as a supervisor and manager in the hospitality industry. Alex received her undergraduate degree in Hotel and Tourism Management from New York University's Preston Robert Tisch Center for Hospitality, Tourism, and Sports Management.
Alex's admission to the bar is currently pending. She is a member of the Westchester County Bar Association, the New York City Bar Association, the Society for Human Resource Management and the Westchester Human Resource Management Association.
Small firm,
big network
Learn about our "Small firm,
big network" practices.
Click here »
---
What our clients are saying:
*Prior results do not guarantee a similar outcome.