By: Alexandra Lapes and Tracey I. Levy
Employers in New York face a panoply of overlapping and inconsistent obligations at the local, state and federal levels as the government seeks to contend with the latest threats from COVID-19.  New York issued a statewide mandate on December 10, 2021, that all businesses and venues must implement a full vaccination requirement or require masks be worn for everyone on their premises, effective as of December 13, 2021.  In tandem with New York State, on December 15, 2021, New York City updated its "Key to NYC" program to require employers implement a vaccine mandate and require employees who work in-person or interact with the public to show proof of vaccination by December 27, 2021.
Businesses that were part of the original Key to NYC program, which required only one dose of a COVID-19 vaccine, must require proof of a second dose by December 27, while all remaining businesses in the city must require employees to show proof of an initial vaccine dose by December 27, and proof of a second dose within 45 days thereafter.  New York City considers a covered workplace to be any location — including a vehicle — where an employee works in the presence of at least one other person.
Presently, the state's mandate is effective until January 15, 2022, when it will be reevaluated and may be extended, while the city's mandate does not have a specific sunset date.
The mandate is full vaccination or full masking – no mix and matching permitted
Many employers in recent months had relaxed masking requirements for employees who are fully vaccinated, while those who are not vaccinated were required to wear a mask in the workplace, except when seated in a private office.  The state's FAQs make clear that hybrid approach is no longer permissible.  An employer must either require everyone on premises to be fully vaccinated or require everyone — regardless of their vaccination status — to wear a face mask in the workplace.
Under state law, an employer can choose whether to implement a vaccine mandate or mask requirement, but the chosen requirement must apply in its entirety to all staff, patrons, and visitors throughout the premises.  New York City employers do not have that option – they must institute a full vaccination mandate.  If full vaccination is not applied uniformly to all, then New York State requires the employer to ensure everyone in its workplace complies with the masking requirement.
Full vaccination currently means up to two doses
New York State defines "fully vaccinated" in accordance with the CDC's definition, as 14 days past an individual's last vaccination dose in their initial vaccine series (14 days past the second shot of a two-dose Pfizer-BioNTech or Moderna vaccine; 14 days past the one-shot Janssen/Johnson & Johnson vaccine).
Face masks can be removed only for limited circumstances of limited duration
For businesses adopting a masking requirement, that requirement allows few exceptions.  In offices, masks can be removed only when necessary to eat or drink, or when an employee is alone in an enclosed room. Even in restaurants and bars, unless the business is strictly enforcing a full-vaccination requirement for everyone on premises, patrons can only remove masks when eating or drinking; restaurant staff must be wearing a face mask at all times.  For tv and film production, the talent can remove a face mask during filming, but must maintain six feet of distance from all others, such as the crew and production staff, and masks must otherwise be in place for everyone on premises. Hospital and healthcare settings must continue to ensure all employees and visitors are masked at all times, regardless of vaccination status.
Granting a vaccination exception for those with accommodations means the employer does not have a "full vaccination" program under the New York State mandate
Employers who grant exemptions as an accommodation for individuals because of a medical, religious or other legally protected reason and permit those individuals entry on the premises apparently must then implement a masking requirement for everyone.  While the impact of accommodations on the full vaccination requirement is not explicitly addressed in the FAQs, one specific FAQ juxtaposes the prohibition on a hybrid approach of full vaccination or masking with a reference to the continuing responsibility of "unvaccinated individuals, including those with medical exemptions" to wear masks in accordance with CDC guidance.  The FAQs also footnote that they should be interpreted consistently with the Americans with Disabilities Act, workplace safety guidelines and applicable regulations.  It therefore appears that, when exceptions are made and a full-course vaccine requirement cannot be maintained in its entirety, all individuals in the workplace must be held to a masking requirement.
Employers cannot automatically ban from the workplace all employees requesting a vaccination exemption as a reasonable accommodation
New Guidance for Employers on Equitable Implementation of COVID-19 Vaccine Requirements, published by the New York City Commission on Human Rights (NYCCHR), reminds New York City employers of their obligation to engage in a "cooperative dialogue" with any employee who requests to be exempted from complying with a vaccination requirement as a reasonable accommodation – whether based on disability, pregnancy, childbirth, lactation, religious beliefs  or observances, or status as a victim of domestic violence, stalking, or sex offenses.  The guidance recognizes that remote work or unpaid leave – actions that keep the unvaccinated individual out of the workplace – may be a reasonable accommodation, but indicates that placing an unvaccinated employee on leave should only be considered if no reasonable accommodation is possible that would enable the employee to continue performing the employee's job duties in the workplace without posing a direct threat or an undue hardship.
Employees are supposed to submit requests for a reasonable accommodation under the Key to NYC program by December 27, 2021.  If an accommodation is granted, New York City employers must keep record of the basis for the accommodation and any supporting documentation.
NYC requires employers verify and keep record of vaccination status
Under the Key to NYC program, employers cannot rely on an honors system or self-attestation of vaccination status.  Rather, employers must check each employee's vaccination record (a CDC or other official immunization record, or the NYC COVID Safe App, the CLEAR Health Pass or the Excelsior Pass) and keep a record of each worker's proof of vaccination, either by:
making a copy of the employee's vaccine proof or a record of a reasonable accommodation with supporting documentation;
creating a paper or electronic record that includes the employee's name, vaccine status including the date they must provide the second dose (if only submitting proof for the first dose), and record of a reasonable accommodation with supporting documentation; or
checking each employee's proof of vaccination before they enter the workplace each day and keeping a record of each verification.
Independent contractors or non-employees must also provide proof of vaccination.  A New York City business can request that a contractor's employer confirm proof of vaccination.
NYC is requiring signage and certification of compliance
New York City employers have two additional obligations:
complete an official attestation sign created by the Department of Health and Mental Hygiene, affirming compliance with the vaccination requirement, and post it in a public space by December 27, 2021 (even if the business also has its own signage about vaccination); and
place the Vaccination Required Poster for Businesses in a place that is clearly visible to people before they enter the premises.
Pulling it together, with consideration of pending federal mandates
In addition to the layers of requirements issued by New York State and New York City, employers nation-wide with 100 or more employees need to anticipate that they will be subject to vaccination or weekly testing requirements under an OSHA directive, as we discussed in this prior blog article.  We have summarized the combined impact on the federal, state and local levels in the chart below.
While enforcement of the OSHA directive had been stayed by the federal appellate courts, the Sixth Circuit Court of Appeals dissolved the stay on December 17, 2021.  Pending further action by the Supreme Court, OSHA has advised employers that it will not issue citations for noncompliance before January 10, 2022, and will not issue citations related to the testing option before February 9, 2022, provided the employer is making good faith efforts to come into compliance.
Employers that are imposing a full vaccination requirement, either under the Key to NYC program or to meet the New York State mandate, may need to update their policies, but should otherwise have minimal additional obligations under the OSHA directive.  New York State employers with at least 100 employees that are instead adhering to a full-time masking requirement, and do not already impose a weekly testing obligation for their unvaccinated employees, will have additional compliance obligations under the OSHA directive.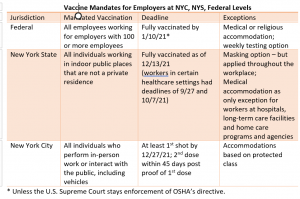 Keep checking for new developments
The only thing certain about these requirements is that there could be more changes in the weeks to come.  Businesses should review their policies and procedures to ensure compliance with the current mandates and continue to check dedicated COVID-19 government websites and get legal advice to ensure compliance with any new requirements.